The"High-level Graduates" Program(Type-B) 2023 at Northeast Normal University (NENU) is starting now. Please read the following instructions carefully.
I. Qualifications
1. Non-Chinese citizens.
2. Applicants shouldbe excellent in their studies, self-conduct,be healthy mentally and physically and obey Chinese laws and regulations.
3. Applicants should not be holding a scholarship of any other category from the Chinese government.
4. The requirements for the applicant's degree and age are that applicants must:
1) be a bachelor's degree holder under the age of 35 when applying for the master's programs;
2) be a master's degree holder under the age of 40 when applying for the Ph.D. programs.
5. Language requirements
Chinese-taught program: HSK Level 5 with scores above 180
The following types of applicants are exempt from submitting the HSK transcript:
1) Native speaker of Chinese;
2) Received academic education in Chinese and obtained a certificate.
English-taught program: TOEFL IBT 80, IELTS 6.5 or above ordocuments to prove applicants' language proficiency
The following types of applicants are exempt from submitting the language certificate:
1) Native speaker of English;
2)Received academic education in English and obtained a certificate.
*If applicants choose the Chinese-taught program, they can apply for one year of Chinese language studyif their language ability does not meet the requirements.
II. Majors
This year, all majors in Master's and Doctoral degrees are open for application.
NENU Major List of Master's Programs for International Student 2023(Click to view)
NENU Major List of Doctoral Programs for International Student 2023(Click to view)
III. Scholarship Coverage
● Students will be exempt from paying tuition and campus accommodation fees;
● Granted a monthly living allowance (PhD. 3,500 RMB/month, Master 3,000 RMB/month);
● Comprehensive Medical Insurance Care.
IV. Application Documents
Master's Program: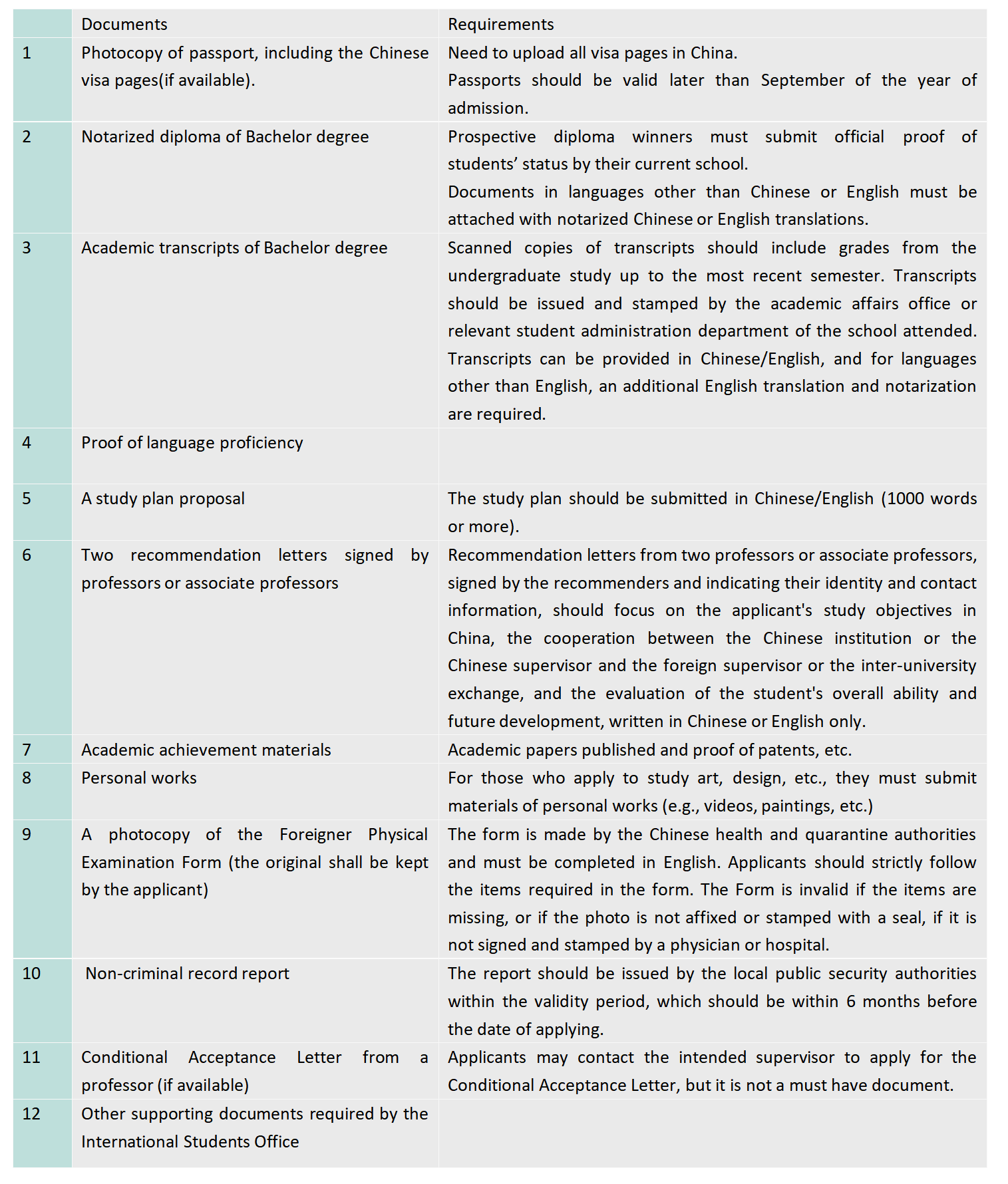 Doctoral Program: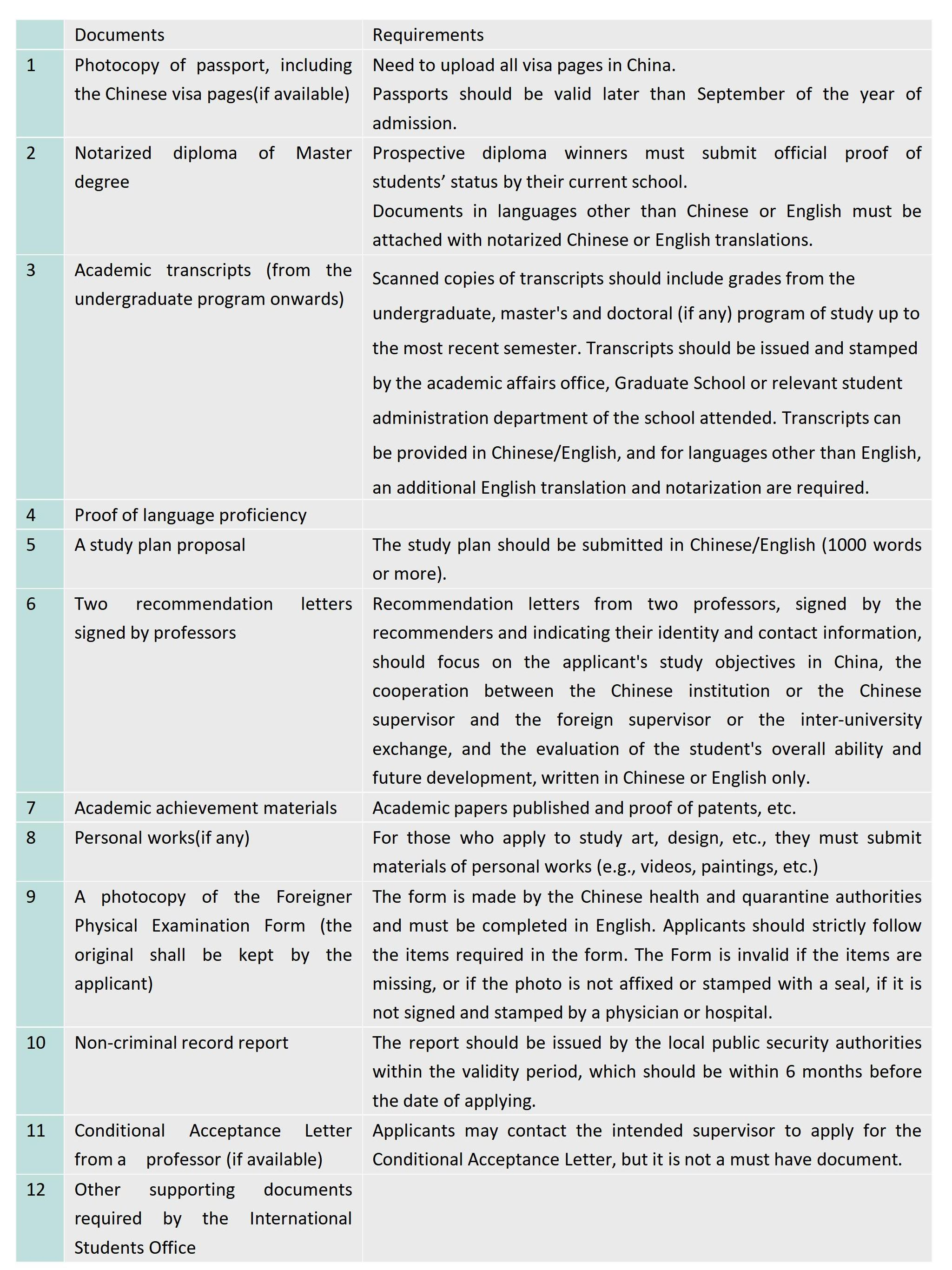 V. Application Procedure
1. Accepting Agency: Northeast Normal University(Agency Number: 10200)
2. Funding Program:
Master's degree program
Doctoral degree program
3. Application deadline: February 28,2023
4. Application procedures
Step 1:Apply at NENU International Student Service System
● Log onto NENU International Student Service System (http://studyatnenu.nenu.edu.cn or https://nenu.17gz.org), fill in the required information, and submit the application. Click to view the Application Guide.
Step 2: Northeast Normal University will complete the preliminary review, determine the list of candidates, and issues the Pre-admission Notice of Chinese Government Scholarship University Program to the candidates via email.
Step 3: Nominated Candidates should submit their application to the Chinese Chinese Government Scholarship Information System.
● Visit the Chinese Government Scholarship Information System (https://studyinchina.csc.edu.cn/#/login) and open an account. Click to view the Instructions for Chinese Government Scholarship Information System.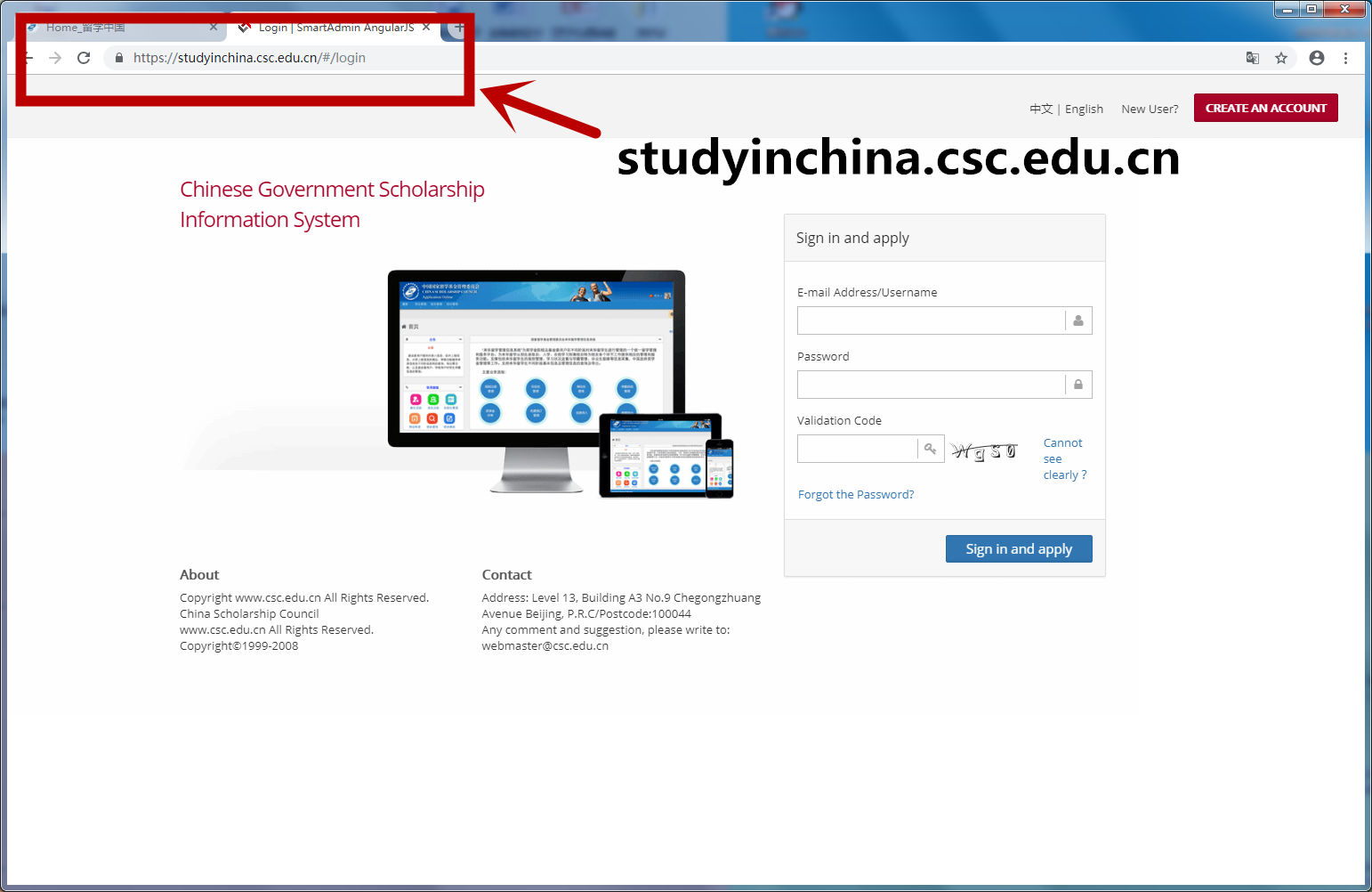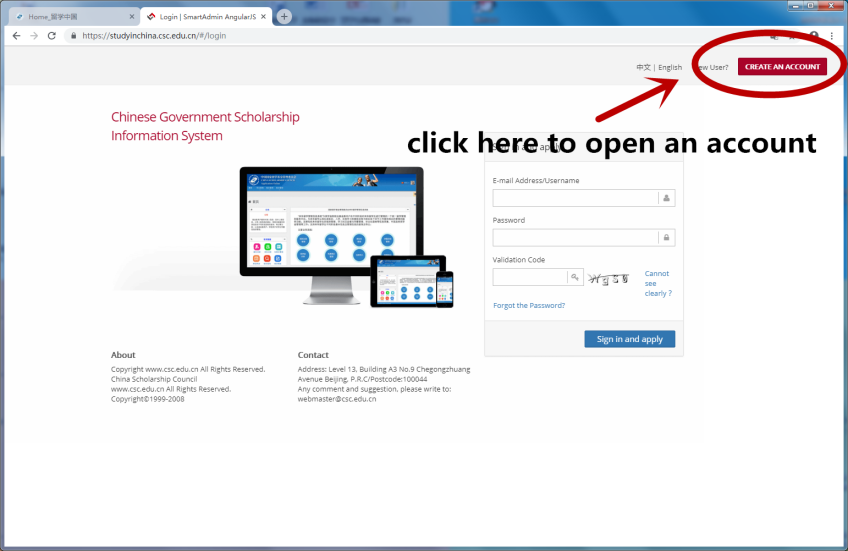 ● The program category should be Type B, and the agency number of Northeast Normal University is 10200. The Agency Number represents a specific application receiving agency and a correct choice of Program Category is necessary before filling in the Agency Number. Please make sure you fill it correctly, otherwise, you will not be able to continue your online applicationwhich may result in your application not being accepted.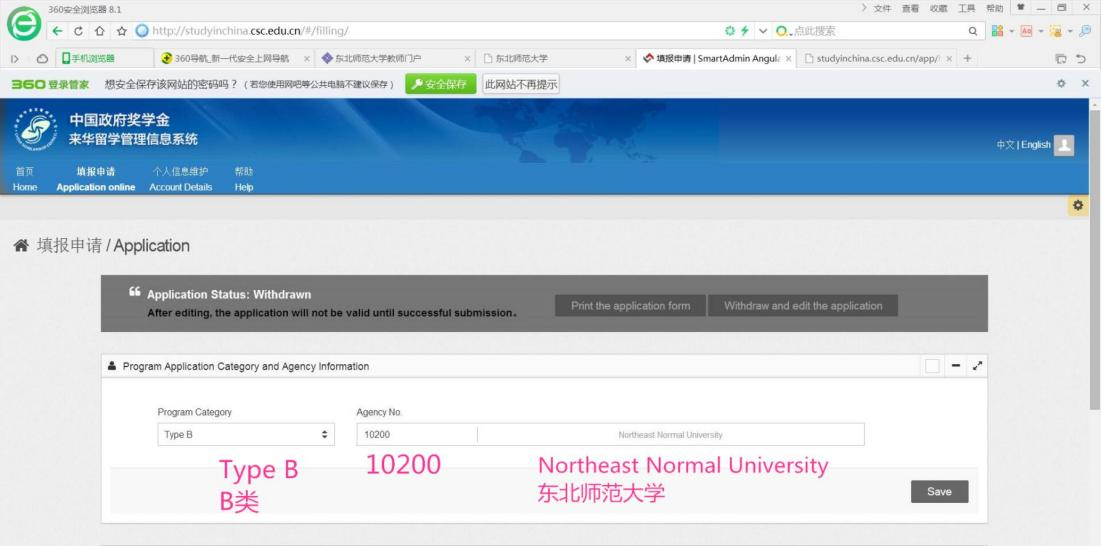 ●Save and upload the documents and submit the application. The uploaded application must includethe Pre-admission Notice issued by Northeast Normal University. Candidates who do not complete the online application on time will be disqualified from candidacy.
Step 4: Based on the principle of "individual application - institutional recommendation - expert evaluation - merit-based admission", the China Scholarship Council organizes experts to conduct a comprehensive evaluation of the candidate's academic performance, comprehensive ability and development potential, and selects the best candidate for admission.
VI.Note
1. Applicants should submit their applications directly to Northeast Normal University, and should not submit their applications through intermediaries; if found, the scholarship application will be disqualified.
2. Please inform us whether or not you have applied to other universities or other scholarship programs, also note whether Northeast Normal University is the first choice or not.
3. If necessary, we will contact the applicant by email (iso@nenu.edu.cn) to supplement the appropriate supporting documents and inform the acceptance result, please make sure to fill in the accurate contact information and address in the application form.
4. The final result of acceptance will be communicated to the applicant via ISO email by the end of July.
5. Scholarship will not be reserved if scholarship recipients cannot register before the registration deadline. Scholarship recipients shall not invite family members without permission from the host university.
6. Scholarship recipients are required to submit all application documents at the beginning of the school year. Applicants are responsible for the authenticity of the information and materials submitted. In case of discrepancies, Northeast Normal University reserves the right to cancel the admission status and the enrolled students' academic status.
7. Scholarship recipients must attend the annual evaluation by the regulations. Failure to pass the evaluation will result in suspension or cancellation of the scholarship qualification.
8. In principle, scholarship recipients are not allowed to change their study majors and study periods.
VII.Contact Information
Address: Division of International Cooperation and Exchanges, Northeast Normal University, No. 5268, Renmin Street, Changchun City, Jilin Province, China, 130024
E-mail:iso@nenu.edu.cn
Attachments:
1.Study Plan for International Graduates Candidates of NENU
2.Foreigner Physical Examination Form